Furniture Direct International explores all time trends among African and European designers that blur the boundaries between art and design, fantasy and parody.
The exhibit is beautiful and playful,but what fascinates me most is how the narrative and humor can be embedded in an inanimate object.It's intriguing to think about and reminds me again of the nascent potential that lies in infusing physical environments with the digital.
It's not that I don't love furniture that just sits still and still makes me giggle.Instead,these objects remind me that stories are not just for books and films,and that humor is difficult to achieve and lovely to experience.
Here is a selection of some of my favorite furniture pieces.
Else Cow Bench by Julia Lohmann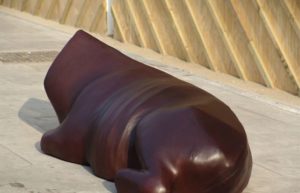 To help us bridge the gap between living animals and materials,Lohmann created a hand-sculpted leather couch upholstered with a single cow hide in the shape of a cow.
Sculpt wardrobe by Maarten Baas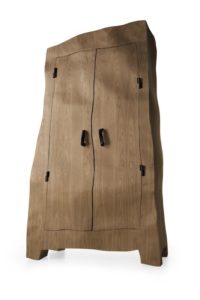 This seemingly melting wardrobe pretends to be carved from a single massive tree trunk but was, in fact, made from sheet steel that has been verneered.
Robber Baron cabinet by Studio Job
This polished bronze cabinet is inspired by a 17th century armoire by Andre-Charles Boulle and the twist comes in the shape of an explosive hole in the center.